Fulkers Bailey Russell Awarded Prestigious Silver Rating from EcoVadis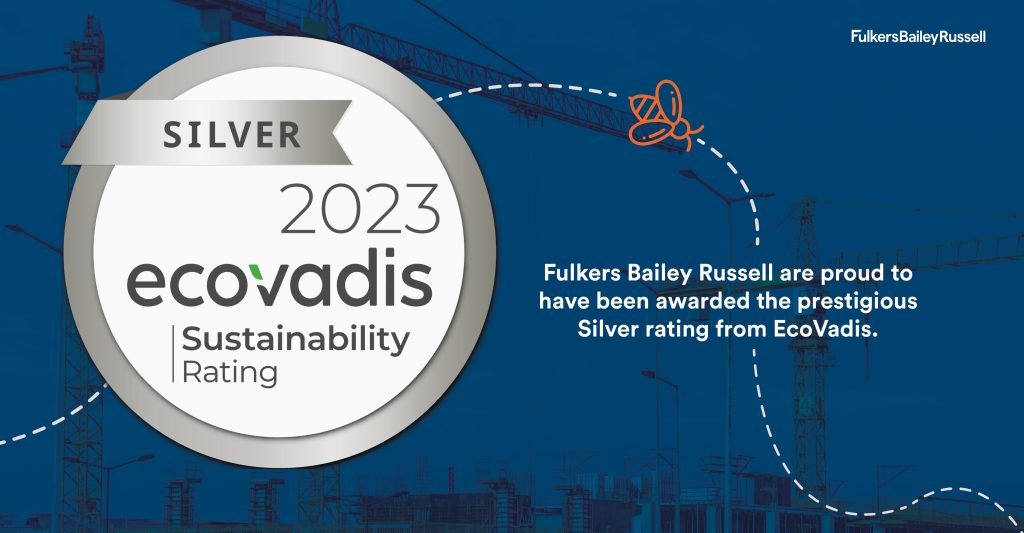 We are proud to share that we have been awarded the prestigious Silver Rating from EcoVadis in recognition of our commitment to sustainable business practices. The Silver Medal places Fulkers in the top 25% of all assessed companies. The rating validates and demonstrates our commitment to sustainability and supports our company goal to achieve Net Zero emissions by 2035.
"While B Corp focuses on our holistic corporate responsibility, EcoVadis offers a detailed analysis of our operating practices and supply chain, aiding targeted improvements. Together, they enhance our credibility and demonstrate a commitment to ethical and sustainable practices, fostering trust with our clients, stakeholders and partners. Having both accreditations reinforces our dedication to comprehensive sustainability practices across both internal operations and external collaborations. We are one of very few companies to hold both accreditations." comments Sam Bailey, Partner.
EcoVadis is an internationally recognised sustainability platform that evaluates companies across a range of criteria, including environment, human rights, ethics, and sustainable procurement practices.
Carbon Reduction Plan 22/23
This is the second time that Fulkers has calculated and reported its carbon emissions and upon review of the data from 21/22 and 22/23 we can see that the total carbon emissions have increased, however this is relative to the increase in turnover. Based on the increase in turnover the carbon intensity has decreased in 22/23.
Find out more about our plans for reducing carbon emissions from our business by 50% by 2030 and our commitment to achieving Net Zero by 2035 by reading our full CRP here.
Fulkers Bailey Russell is now a Certified B Corporation!
At the beginning of October 2023 we were thrilled to announce that Fulkers Bailey Russell had achieved B-Corp status! B Corps are businesses that meet high standards of social and environmental performance, accountability, and transparency. We are proud to join a community of over 4,000 businesses around the world that are committed to balancing purpose and profit.
Becoming a Certified B Corporation is a huge achievement for our company. It is a validation of our long-standing commitment to sustainability and social responsibility. It is also a challenge to continue to improve our performance and to hold ourselves accountable to the highest standards.
We are grateful to our employees, clients and suppliers for their support in helping us to achieve this certification.
We look forward to continuing to use business as a force for good and are committed to making a positive impact in all that we do.
Partner Sam Bailey says
"Achieving B-Corp Certification feels like we had found the thread that connects together our green credentials, our thirst to make a difference and our desire to make positive holistic changes, in a meaningful and structured way. Our new core company objectives are a direct result of our B-Corp Certification and contribute to creating a better environment for us all. As a Certified B Corporation, we are committed to doing business in a way that is beneficial to all of our clients, employees and suppliers. This means that we will continue to focus on social and environmental responsibility, as well as transparency and accountability."
We are proud to be a B Corp.
If you would like to discuss this with us further please contact esg@fulkers.co.uk.